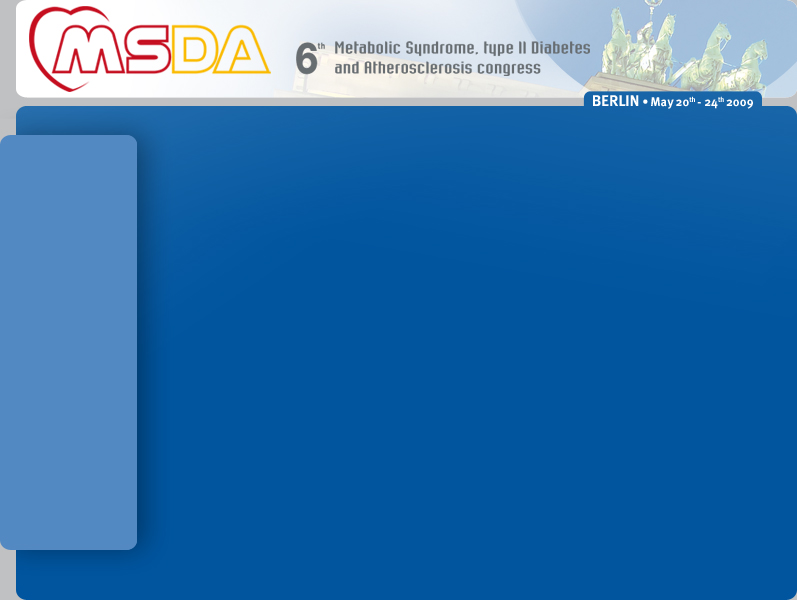 Dear Colleagues,
On behalf of the Organizing Committee, I am very glad to inform you that the 6th edition of the « Metabolic Syndrome, type II Diabetes and Atherosclerosis » congress will be held in Berlin (Germany) from May 20th to May 24th, 2009.
Since its creation, this meeting welcomes a wide number of participants, from all over the world, involved in the atherosclerosis and cardiovascular diseases fields. It covers every item from evolution to definition, from basic research to the latest therapeutic managements and prevention.
Benefiting since its creation from the support of many scientific societies especially the "International Atherosclerosis Society", the "International Task Force for prevention of Cardiovascular diseases", the "Fondation Coeur et Artères", the "Nouvelle Société Française d'Athérosclérose" and the" Société Française d'Endocrinologie", the Congress has been designed to provide an innovative and comprehensive overview of the latest research developments in Metabolic Syndrome, Diabetes and Atherosclerosis.
Experts from different fields (cardiologists, diabetologists and scientists) have been invited and will present and discuss a full spectrum of pertinent topics relating to these items in the form of plenary sessions and symposia.
And finally, the Congress offers the occasion to the participants to present their own papers, so giving the opportunity to share knowledge.
I hope that you will enjoy the congress and that your interaction with your colleagues from many different countries will stimulate a creative exchange of ideas.
Yours sincerely,
Pr Jean-Charles FRUCHART
Chair Program
Partnership
Call to
communication